MEASURE PRODUCTION
Managing Data Production

Measure Production has been developed to manage and track the production status of the various processing lines.


UTILITY

This software allows your to keep under observation all the production data, the product worked, and discarded the various anomalies that may affect the line.
All these data are stored in an SQL relational database.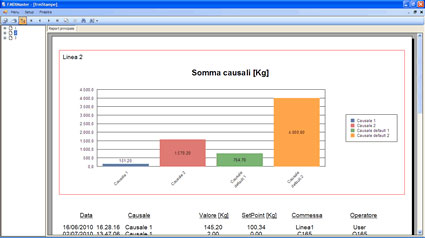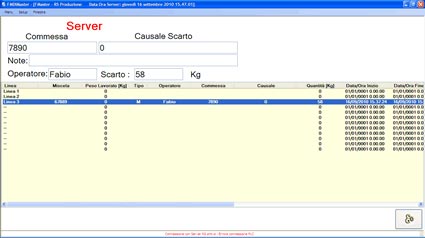 SOFTWARE FEATURES

PRODUCTION DATA MANAGEMENT
RS Measure Production is the tool that allows you to check
all the production data during the processing of one or
more lines and record these data as reliably using an SQL relational database. In fact, all the production data of each line during normal processing are stored in a database.

USER MANAGEMENT
It's can to control software access, including users with password of many levels to give the possibility to make certain changes to recipes or not.

PRODUCTIVITY DATA MANAGEMENT
All production data are stored in a database, through which you can check at any time, the pattern of production in a time interval (date and time).

PRODUCTIVITY DATA EXPORT
With RS Measure Production you can export this data to file .xls and .csv for programs that use spreadsheets like Microsoft Excel.

PRINT CHART PRODUCTION
With RS Measure Production it's can check these data through intuitive charts and also make prints of these graphs connecting to a printer or printing system on .PDF file.

PERSONALIZATION
In addition to the basic version of RS Measure Production it's possibile to combine the optional kit through which you can customize software depending on customer specifications.

SERVICE
In addition to the software packageRS Measure Production we can provide a package "turnkey" wich includes providing all necessary tools for the acquisition of data (Each line on the Panel PC, PLC, PC, network switches, cabinet until the cable-laying).