PACK
Data Management
Packagin Field

Management of data production, insert and update work recipe and control of production state of machine in field of Packaging is often an operationun that requires a lot of time by machine programmer and users.


UTILITY

RS Pack takes care of this work and go even further, furnishing an integrated tool extremely flexible for management, search, update and sending recipes to machine without without estranging from the posting.

Besides it's possible to have an instant diagnosis of all machine situation: production, break or alarm state, and so on.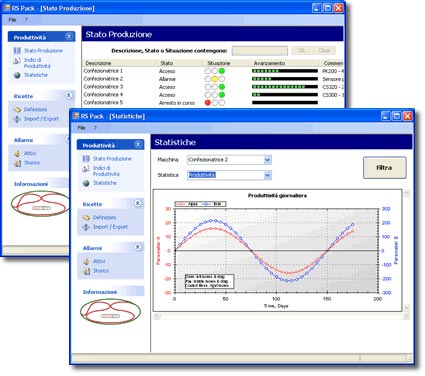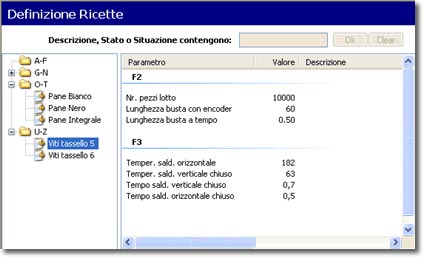 SOFTWARE FEATURES

INFORMATION MANAGEMENT
RS Pack it is the tool of data management of production what it allows you to organize and manipulate data and documents related to the production in the most reliable way with the use of a relational database SQL report.

USER MANAGEMENT
It's possibile to control software access, including users with password of many levels to give the possibility to make certain changes to recipes or not.

DATA HANDLING PRODUCTIVITY
All production data are recorded within a database manager, through which you can check the Production State of machine (if turn-on, in alarm or break and the progress of the production cycle), Productivity index and Production statistics of individual machines using intuitive graphical.

RECIPES AND LOTS OF PRODUCTION MANAGEMENT
Working recipes are saved, archived and broken down by machine or by product type. It's possible to create, copy, update and delete a working recipe.

DIAGNOSTIC AND HISTORICAL ALARMS
During production, is useful to have a track of what happens: with RS Packthis is possibile. Indeed during production it's possibile to view the active alarms and, thanks to the database manager, the historic alarms or abnormalities occurred.

PRINT DATA
With RS Pack it's possibile to make a print of working data for every recipe linking a printer to sstem or printing on file .PDF, .TXT (text - Notepad).

COMUNICATION
The RS Pack system is completely transparent, does not interfere with other systems and provides various types of communication: monoserial, multiserial, ethernet, wireless.

OPTIONAL KITS
In addition to the basic version of RS Pack Optional kits are available through which you can: connect with external software, issuing invoices and transport documents, to customize software depending on customer specifications.